Brightflag's invoice flags allow you to easily view breaches of your billing guidelines and billing inefficiencies charged on an invoice.
Flags are powered by Brightflag's artificial intelligence using language analysis.
Flags are located at the center of the Invoice Analysis page.
How does Brightflag's Artificial Intelligence generate flags?
Brightflag uses A.I.-driven language analysis to read and understand the narrative lines of an invoice allowing clients to view billing breaches and inefficiencies charged on an invoice.
These coded lines are applied against your company's billing guidelines and industry best practice guidelines.
Any line items breaking these guidelines will trigger a flag, highlighting exactly what has been breached. In a nutshell, the A.I. has done the heavy lifting of review for you.
Which line items are triggering flags to appear?
Click on a flag title to filter the line items that relate to that flag. Scroll down to view these lines. 1 line item may relate to several flags.

How are my company's billing guidelines in Brightflag?
Your company's billing guidelines (engagement terms) are configured into Brighflag's rules engine. The flags that appear on an invoice are based directly on your company's billing guidelines. Your company's Brightflag system administrator has the ability to change the flag configuration at any point, to optimize them for use.
Further reading:
Flag Categories and Description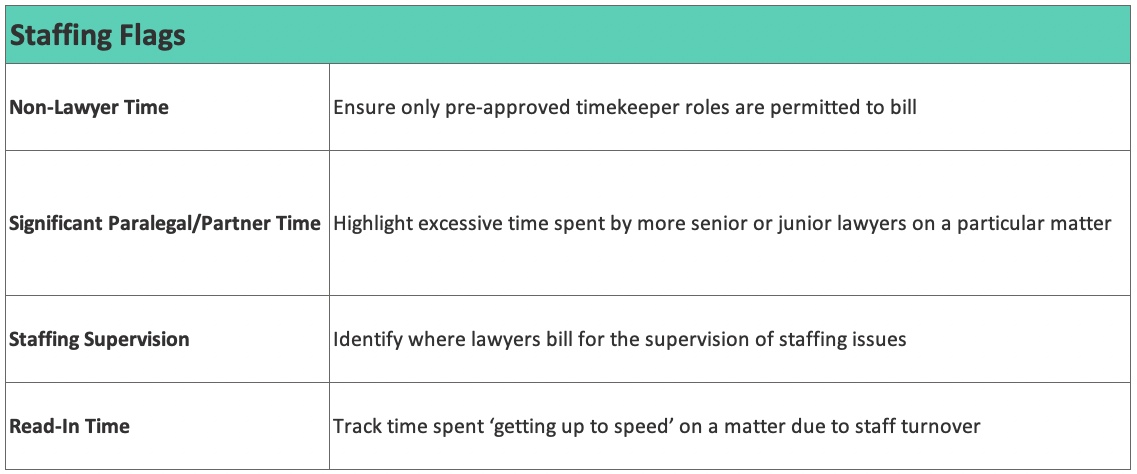 Staffing Flags
Non-Lawyer Time: Ensure only pre-approved timekeeper roles are permitted to bill
Significant Paralegal/Partner Time: Highlight excessive time spent by more senior or junior lawyers on a particular matter
Staffing Supervision: Identify where lawyers bill for the supervision of staffing issues
Read-In Time: Track time spent 'getting up to speed' on a matter due to staff turnover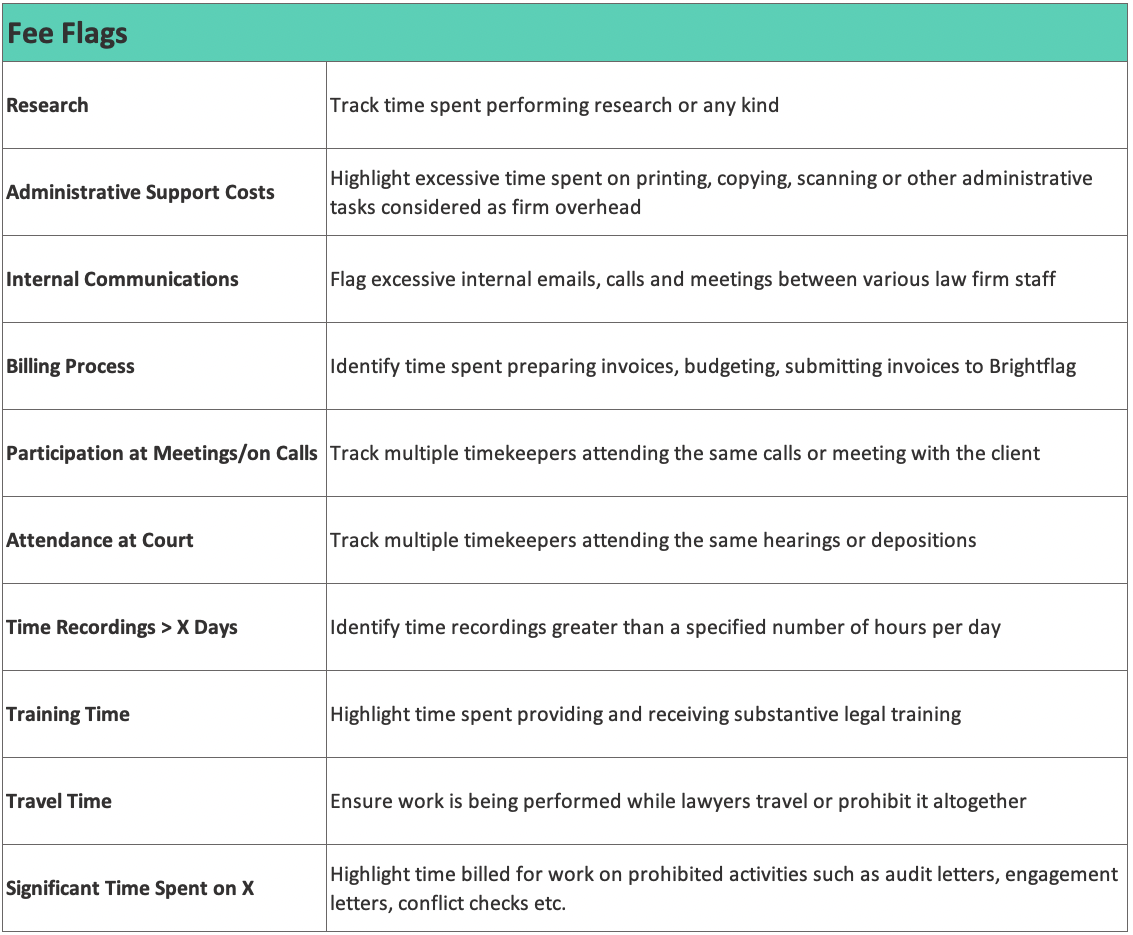 Fee Flags
Research: Track time spent performing research or any kind
Administrative Support Costs: Highlight excessive time spent on printing, copying, scanning or other administrative tasks considered as firm overhead
Internal Communications: Flag excessive internal emails, calls and meetings between various law firm staff
Billing Process: Identify time spent preparing invoices, budgeting, submitting invoices to Brightflag
Participation at Meetings/on Calls: Track multiple timekeepers attending the same calls or meeting with the client
Attendance at Court: Track multiple timekeepers attending the same hearings or depositions
Time Recordings > X Days: Identify time recordings greater than a specified number of hours per day
Training Time: Highlight time spent providing and receiving substantive legal training
Travel Time: Ensure work is being performed while lawyers travel or prohibit it altogether
Significant Time Spent on X: Highlight time billed for work on prohibited activities such as audit letters, engagement letters, conflict checks etc.

Expense Flags
Prohibited Expenses: Track and reject law firm overhead expenses
Prior Approval Required Expenses: Flag and review expenses that require approval on a case by case basis
Third-Party Expenses: Identify where third-party vendors are utilized, such as private investigators, arbitrators, mediators, experts etc.
Out of Town Travel Expenses: Highlight items billed associated with travel, such as meals, hotels, flights etc.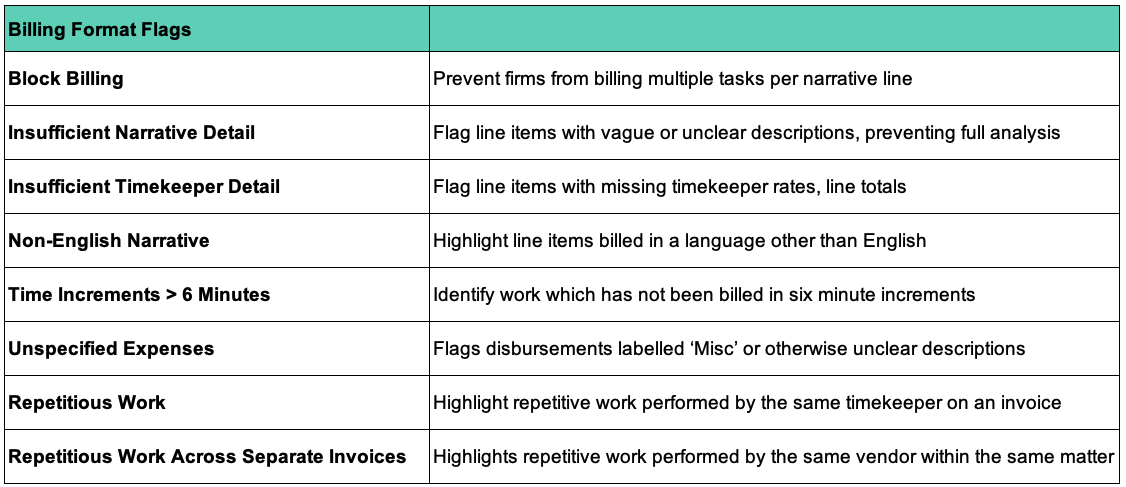 Billing Format Flags
Block Billing: Prevent firms from billing multiple tasks per narrative line
Insufficient Narrative Detail: Flag line items with vague or unclear descriptions, preventing full analysis
Insufficient Timekeeper Detail: Flag line items with missing timekeeper rates, line totals
Non-English Narrative: Highlight line items billed in a language other than English
Time Increments > 6 Minutes: Identify work which has not been billed in six-minute increments
Unspecified Expenses: Flags disbursements labelled 'Misc' or otherwise unclear descriptions
Repetitious Work: Highlight repetitive work performed by the same timekeeper on an invoice.
Repetitious Work Across Separate Invoices: Highlights repetitive work performed by the same vendor within the same matter.

Budget Flags
Budget Warning: Flag when a matter is close to, but not yet exceeding a pre-agreed budget
Budget Overrun: Flag when a matter exceeds a pre-agreed budget

These four flags are automatically active. They will only show if the given matter has a matching budget style.

Vendor Budget Monthly Overrun
Vendor Budget Fiscal Quarter Overrun
Matter Budget Fiscal Quarter Ovverrun
Vendor Budget Fiscal Year Overrun

The three flags can be configured at a customer level

Budget overrun - Vendor specific
Budget overrun 75% - Vendor specific
Budget overrun 150% - Vendor specifi

Error Flags
Incorrect Gross Total: Ensures the fees, expenses, and discount add up to the correct invoice total
Time Entry Calculation Error: Flags, when an individual time entry calculation of rate x hours worked, is incorrect
Discrepancy in Narrative Totals: Check whether the overall line total matches the top-level fee total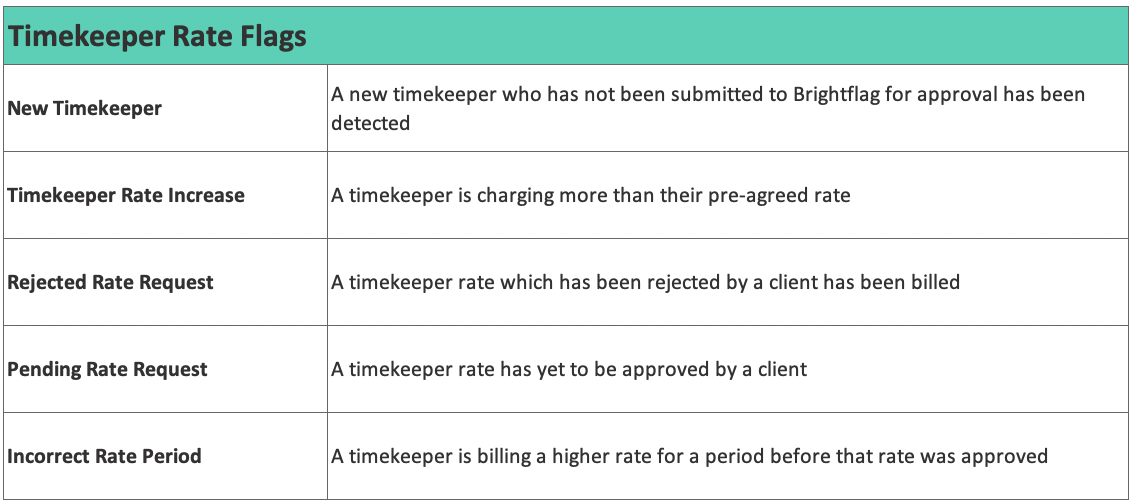 Timekeeper Flags
New Timekeeper: A new timekeeper who has not been submitted to Brightflag for approval has been detected. Please note that a timekeeper referenced on an invoice document must match an existing approved rate exactly. This includes any middle initials/abbreviations.
Timekeeper Rate Increase: A timekeeper is charging more than their pre-agreed rate
Rejected Rate Request: A timekeeper rate that has been rejected by a client has been billed
Pending Rate Request: A timekeeper rate has yet to be approved by a client
Incorrect Rate Period: A timekeeper is billing a higher rate for a period before that rate was approved