This template provides a workspace for the Board of Directors, organizing the reference materials they need for each meeting. Invite Board members and observers to the workroom to provide them continuous access to the materials, and follow along with the agenda during the meeting.
1. Initial setup
Create a workroom by using this template and add the dates and times of meetings to the sections in the Task list based on the Board's calendar.
Customize the list of reference material in the Meeting section based on how your meetings work.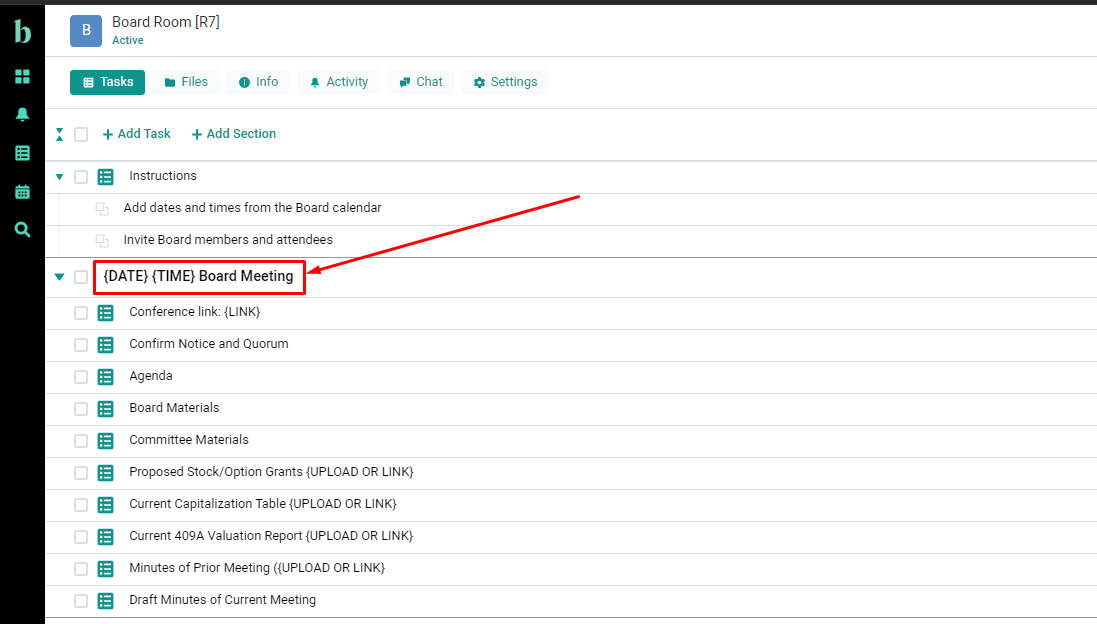 2. Invite the Board
In the workroom, use Add People to open the invite screen. Before the first meeting, invite each Board member and observer who should have access.
Invite them as a member of your organization if they use an email address that is on the same domain as your company.
Use their name for their organization if they use an email address that is not on the same domain as your company.
Important: Consider inviting the Board members with the role of Viewer instead of Editor. As a Viewer, they can see and download materials, but not modify them or make comments.
3. Set up for each meeting
For each meeting:
Add the meeting agenda to the description Upload or add subtasks with the Agenda.
Upload files to the other tasks (or delete them) as appropriate.
Copy and paste a link to the workroom in the calendar invitation and email you send for the meeting.
4. Restrict permissions if necessary
To make any item private to a smaller group (such as an Executive Committee), use the three-dot menu to control the task's permissions.