Brightflag's Matter Spend v. Budget Savings Report is a new pre-built report enabling users to report on matter spend and matter budgets set up through Brightflag. This report makes it easier & quicker to report on how your organization has controlled and reduced spend by utilizing matter budgets in Brightflag.
The Matter Spend v. Budget Savings Report is available to all users of Brightflag. Once this feature is enabled for your organization, you can access it in the Reports section of your Brightflag Menu: Reports > Matter Spend v Budget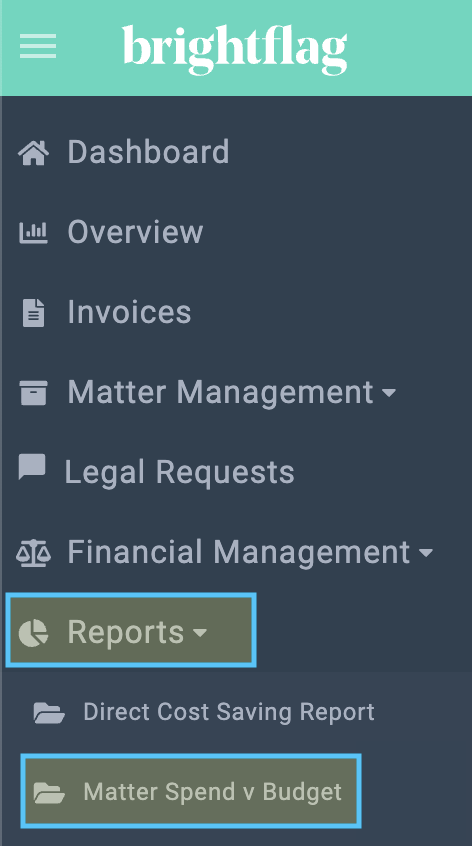 Please note that this report currently only accounts for Periodic Budgets and not Phased Budgets. Support for Phased Budgets is planned to be added to this report after the BETA period ends.
How to Run the Report
1. Select a custom date range or use the Brightflag standard date reporting periods.
2. The report will display your default reporting currency, but you can change this to EUR, USD, GBP, or AUD
3. The report will default to open matters only, but you can untick this if you want to cover all matters

Exporting the Report
The page will update when you click "Get Started," and an "Export" button will appear.
You can also update the fields set in the previous steps and rerun the report from this page if needed.
Clicking "Export" will download an Excel sheet with the following information for the selected period:
Matter Name

Matter Ref

Matter Status

Matter Group

Matter Category

Department

Matter Currency

Vendor

Vendor Ref

Budget Type

Budget Period

Budget Amount

Actual Amount

Entity

Internal Matter Lead

Variance amount - Difference between the Actual and Budget amount

Variance % - Actual percent budget variance
For further information on Brightflags reports, please see the following articles: