Brightflag's Compare Matters function enables users to compare up to three matters side by side under several key data points. This view makes it easier to analyze spend for each specific task, with a further breakdown available for each task item.
Each task is analyzed under four key data points:
Portion: The percentage of fees attributed to each task. **Important to Note: This percentage figure is calculated from Hourly Invoices only, as Fixed Fee invoices do not have any tasks associated with them. So if a Matter has a mix of Hourly & Fixed fee invoices, the Portion Percentage will not add up to 100%.
Hours: Total number of hours worked on this task by a law firm
Average Rate: The average rate of all timekeepers for this task
Fee: The total value of fees billed for this task.
To view Matter Comparisons, click Menu > Matter Management > Matter Comparison
How to configure the Matter Comparison view
To get started, select the relevant Matter Category, and then select a Matter to compare for Matter 1, Matter 2 and Matter 3. Once you pick a selection, the screen with auto update the matter details for you.

You can add Category filters , such as Law Firm and Department.


Once you have 2-3 Matters selected, you should see a view similar to the screenshot below:
Expanding tasks and sub-tasks
Each task can be expanded to view additional sub-tasks, which also can be expanded for deeper insights.
You can do this by clicking the green arrow icon on the left-hand side of each task & sub-tasks, as highlighted below.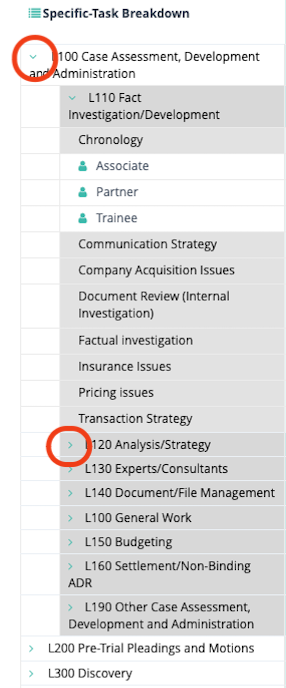 Timekeeper data
On each task and sub-task, you can toggle the timekeeper detail option on the top right column, which provides a detailed breakdown of the timekeeper role for each task and sub-task.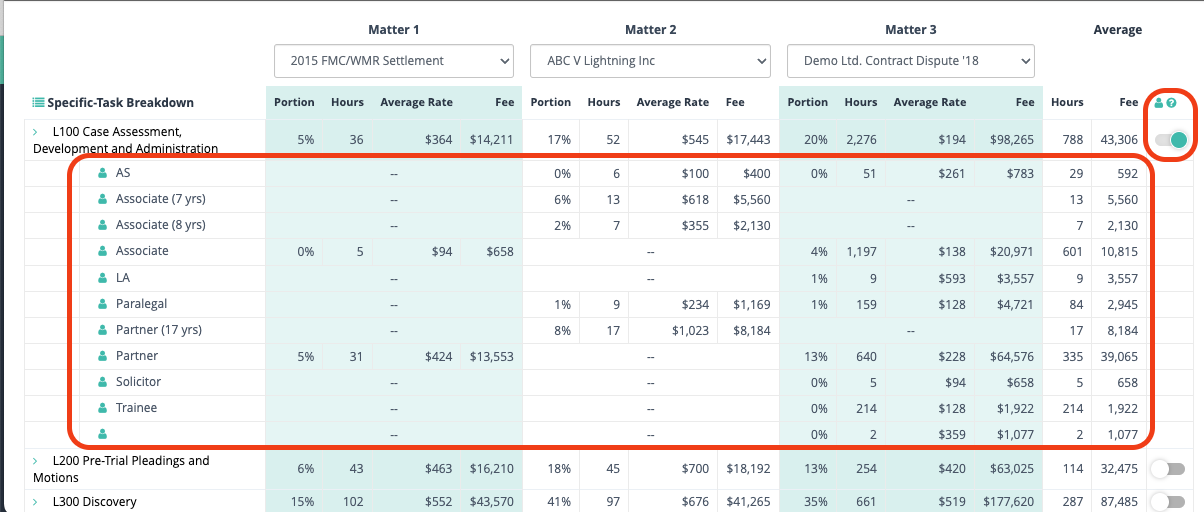 Average across selected matters
The average section on the right side of the screen shows the average of the Matters you have selected for:
Hours: Average hours worked across selected matters for each task & sub-task.
Fee: The average fee billed across selected matters for each task & sub-task.

Downloading the Matter Comparison data to Excel
For the category & matters you have selected in the Matter comparison view, you have the option to download this data to Excel.
Select the 'Download to excel' button on the top right of the screen, and once selected, your download will automatically commence.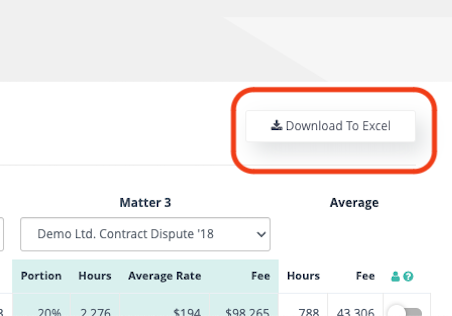 As some matters have extensive detail & data, please allow a few moments for the download to complete.
For Google Chrome users:
Depending on the data size & the speed of your internet connection, please wait until the loading icon in your browser tab completes before moving away from the current screen.



This download will appear at the bottom of your screen for Google Chrome users.