If you are a Workroom Administrator, you can archive your Workroom after a case or project has been completed. Archiving a Workroom removes it from active Workrooms listings.
To archive a Workroom, follow these steps:
In the Workroom you wish to archive, select the Settings tab at the top of the screen.

On the Settings page, scroll down to Permission Settings on the left of the screen.
Under Archive Workroom, select the gray toggle button next to the Workroom not archived status. The button will turn blue and the status will update to Workroom archived.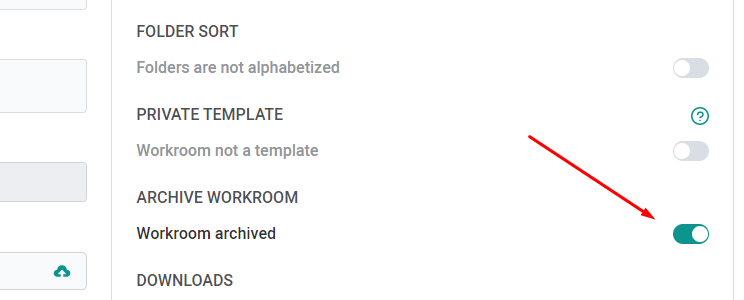 This means your Workroom has now been removed from active Workrooms. It will still appear in search results but no longer in the general Workroom listings.
To see all archived Workrooms, select the Workrooms Tab

on the navigation menu on the left to open the Workrooms page.
On the Workrooms page, select the Types tab. Select the drop-down arrow next to All, and select Archived from the drop-down menu. Your newly archived Workroom will be displayed with all other archived Workrooms.