At Brightflag, we strive to continually improve our product. Keep up-to-date with our new releases and latest updates here, refreshed monthly.
August 17, 2022
What's New
On the invoice search page, you can now select to

convert the monetary invoice amounts

to your company's default currency by clicking on the Convert to XX toggle on the top right side of the screen, making it easier to view invoices in the one currency.

We've added the option to

sort the fields/columns

on the invoice search page, making it easier to sort the data by the most important data points.

For greater visibility into the last time an invoice status was changed, we've added a new field/column to the invoice search page,

Last Status Change

. This field/column provides you with the last date & time the invoice status was updated.

For added convenience, the Report Builder now populates

your email address by default

when you choose "send by email address."

To make it easier to view allocated amounts, we've added actual allocated amounts to the Invoice Report.
Bug Fixes
In some situations, users could not clear dates from a matter. This has now been resolved.

We've improved the user experience by changing the symbol's color to remove a stage approver for admins, as the symbol was the same as a background, thus removing it from view.

On rare occasions, reports were missing or omitting some data in the report results. We've implemented a fix to prevent this from occurring again.

Resolved an issue in which some users received the "Pending Invoices Reminder" email when they had no pending invoices to review/action.
July 27, 2022
What's New
Bug Fixes
On rare occasions, reports were missing certain data fields for certain results. We've fixed a handful of bugs to prevent this from happening.

When saving certain report types, the date type filter was not being remembered. This has been fixed so reports always use the chosen date type.

The Download Invoice button on the invoice review screen wasn't working for certain invoices. This has been fixed.
June 2022
Internet Explorer Deprecation
In accordance with Microsoft deprecating internet explorer (IE) we are ending support of IE July 1, 2022. If any of your vendors are still using IE please remind them that effective July 1, they will need to move to a new browser.
Legal Operations Dashboard Beta
The Legal Operations Dashboard is now in beta. This new Dashboard will provide visibility for Admin users into the key items that require your attention, such as Invoices to Review, Blocked Invoices and Timekeeper Rates. Please reach out to your CSM if you'd like to enable the new Legal Operations Dashboard in your account.
Coming Soon: Invoice Search 🔎
Efficient invoice review is essential for saving time. A revamped invoice search page is one part of a series of upgrades coming your way! If you would like early access, reach out to your company's CSM.
May 2022
Product Update - Billing Periods in Budgets 🧾

Date types are important, especially for your finance team. You can now choose whether your matter budgets are based on invoice dates (the date the invoice is issued) or the billing period (the dates within which the work is carried out. Read more about it here.
April 2022
New Report Builder Rollout
Our beta testing program has now been completed and we'll soon begin transitioning customers to the new Report Builder interface in phases. Your Customer Success Manager will be in contact shortly to let you know the exact timeline for your transition, but please reach out preemptively with any questions.
More Coming to Matter Budget Charts
More enhancements are coming your way following last month's Matter Budgeting update, including the ability to view charts according to billing period (rather than invoice date) and filter results into a custom date range.

As a reminder, the Brightflag Help Center is already full of detailed guides and video tutorials ready to point your budgeting workflows in the right direction. And, as always, don't hesitate to ask your Customer Success Manager for assistance along the way.
March 2022
Matter Budgets Are Here 🎉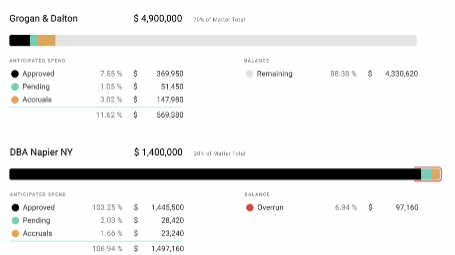 The wait is over and its time to start budgeting!
Visualize matter budgets the way you need
Split your matter budget out by vendor and capture an internal budget
Enjoy seamless interaction between your top-down budgets and your rolled-up matter budgets
Check out our help center for video and written tutorials.
Join our Legal Service Requests Beta
Join our Legal Service Requests Beta to have a smarter "front door" for your legal department in 2022. You can still access our new Legal Service Requests solution for free through the end of June.To get started, please contact your Customer Success Manager.
February 2022
Brightflag Workspace 🤝 Gmail
Want to get more work done from the comfort of your inbox? We get it. Using Brightflag Workspace's new Gmail extension, you can:
Easily and securely send emails and attachments to relevant workrooms
Quickly convert emails and attachments into actionable tasks
Assign tasks, add due dates, update descriptions, and include instructions
Already using M365 for mail? Workspace already has you covered!
Legal Service Requests
Eager to install a smarter "front door" for your legal department in 2022? You can still access our new Legal Service Requests solution for free through the end of March. To get started, please contact your Customer Success Manager or feel free to reach out to our product owner Ciaran Gough directly.
January 2022
Introducing Brightflag's new Legal Service Request Module
Forget the days of searching for legal service requests in multiple areas and spending even more time assigning them. Brightflag's latest innovation offers corporate legal departments a powerful way to centralize the intake, triage requests, and understand the demand for legal services across the business.
The Legal Service Requests module is a fully integrated part of the Brightflag Legal Operations Platform and is available in Beta immediately to all Brightflag customers at no additional cost through March 2022.
To learn more about Brightflag's Legal Service Request, join us Thursday, January 20th at 2pm EST where we will deep dive into the module.
Coming Soon: Report Builder
Our new Report Builder has launched in beta format. We are looking forward to providing all customers with a live demo of all the new exciting functionality that you have been asking for at the webinar next month. We will then start to roll out the features to all of our customers in the coming months.
Coming Soon: NEW Workspace Features
Brightflag Workspace is excited to share that in the coming weeks, we will be adding a Workspace Tools App and Gmail sidebar integration to our existing list of exciting features. Not only will these features improve productivity by enabling in-product document editing, but also make importing files and emails to a workroom from GSuite quick and easy. Be on the lookout for an update around these releases soon!
Brightflag's #LegalOps podcast: In-House Outliers
In this week's episode, Alex interviews Brenda Hansen and Liz Lugones from UpLevel Ops. Brenda and Liz both share how they got started in their legal operations journey. They also share the importance of mentorship in their careers, and what it takes for legal operations professionals to be successful in 2022.
November 2021
You might have heard… Brightflag has acquired Joinder 🎉
Brightflag has acquired Joinder, the system of record that legal professionals at more than 1,000 organizations use to securely track activities, collaborate with colleagues, and store work assets. Joinder is now known as Brightflag Workspace and forms an integral part of the Brightflag Legal Operations Platform.
Learn More
Report Builder Glossary: Coming Soon
The Report Builder will soon have a Glossary that will explain to you what each field refers to. This will give you a better ability to understand where the numbers in your reports come from in Brightflag.

Report Builder Teaser
We're excited to share that we will be making significant upgrades to the Report Builder at the beginning of 2022! Don't worry, we will let you know when to expect to see changes and we won't mess with your year-end reporting!
Brightflag's #LegalOps podcast: In-House Outliers 🎙️
Listen Now
October 2021
Coming Soon:

Brightflag is developing a Legal Service Request Portal that can be used by anyone in the business. This immediately removes the chore of data entry from the legal team and places that task with the person requesting legal assistance. This will help each client to use Brightflag as a one-stop shop for all their matters.
September 2021
New Multi-line Purchase Orders. Brightflag has upgraded the Purchase Order feature adding the ability for customers to break down their PO's into multiple lines. This means that:

Client users will see Multi-Line PO in the PO tab on a Matter page & the PO tab on an Invoice
Ability to add PO Comments
Start & End dates of PO's are now captured
API enabled
Law Firms/Vendors may be required to split out fees and expenses by PO line item (depending on client requirements.
Brightflag Awarded US Patent for AI Innovation in Legal Operations


We have some exciting news...The United States Patent and Trademark Office (USPTO) has granted Brightflag a patent for our innovative application of artificial intelligence (AI) and machine learning in legal technology!



"This patent confirms the uniqueness of Brightflag's core technology, but its practical value is something that in-house legal teams have been confirming daily since 2014"
- Ian Nolan, Brightflag CEO and Co-Founder


Watch the video below from COO and Co-Founder Alex Kelly to learn more about the patent



August 2021
New Direct Cost Savings Canned Report. Brightflag has launched a new Direct Cost Savings Report beta version which is now available to Client Admin users of Brightflag. This is a new Brightflag report that will enable users to report on direct cost savings realized through Brightflag. This report makes it easier & quicker to report on how your organization has controlled and reduced cost through invoice review. Report and export from one central place on all types of Invoice Adjustments.
July 2021
Reporting API beta version is now available to clients to test. Please reach out to Brightflag support by

Submitting a Request

if interested and we can provide you with information on how to use this new API.
June 2021
Multi-Line Purchase Order Capabilities - This allows law firms/vendors to submit invoices broken down into different lines per fees and expenses per Purchase orders. Clients can see this multiple line information in the Purchase Order tab on the Matters page
Matter Confidentiality: We have added a legal support admin role with access to all admin settings but no access to matters & invoices. This new user role will have access to Vendor Management and Matter settings menus.
A new Matter Overview Tab on Matters Details Page gives a summary of details for a specific matter. This new feature also includes the ability to add notes within this Overview tab.
May 2021
A matter notes tab allows you to easily track information against a matter in a dedicated space. Go to the matter overview page to begin using it.
Matter template fields are available within both of the report builder matters reports.
If you require tax information or PO numbers from all of your vendors, you can now mandate LEDES 98Bi files, meaning no key information will be missing from your invoices.

Submit a Request

to Brightflag Support Team to enable this feature.
April 2021
A Brightflag-Outlook add-in is now available for several versions of Microsoft Outlook. At the click of a button, you can now store documents and emails directly to a matter in Brightflag from your Outlook.
Your vendors now have more autonomy with the creation of a new vendor admin role. Upgrade at least one user from each vendor to admin-level so that they can add new vendor office admins and view information across all offices. Submit a Request to Brightflag Support Team to enable this feature.
March 2021
February 2021
AP batch export spreadsheet now facilitates a new row per allocation string per invoice.
LEDES file errors can now be addressed more easily in the Brightflag Law Firm Portal. This reduces the need to create a new LEDES file from scratch.
January 2021
December 2020
November 2020
October 2020
Enhanced the bulk matter updater to allow for the bulk closing of matters.

Upgraded the log-in pages and application header and password reset pages to include new Brightflag branding.

Upgraded all emails from the application to include the new branding and with updated support links.

Diversity feature: initial development completed which includes data collection, and reporting modules.

Updated vendor management to cater for specifying vendors as Preferred Counsel. Initial infrastructure has been put in place in the backend.

As part of ongoing technical improvements and security audits we have:

Updated Javascript Libraries used throughout the application.

Reconfigured and improved HTTP Security Headers.

Improved validation on file uploads.

Enhanced Cross-site Request Forgery (CSRF) and Cross-Site Scripting (XSS) Prevention.

Improved authentication and authorisation controls on APIs.
September 2020
Improved messaging when Accounts Payable email files exceed e-mail attachment limits and provided a link to download.
Configured Accruals reminders to be sent 5 days before the submission deadline.

Updated the Financial Budgets feature:

Added a link to access the matters that are included in the budget

Ability to edit the budget name.

Updated the Purchase Order feature to provide enhanced LEDEs98Bi support and added to the ability to enforce unique purchase order numbers.
Enhanced the Invoice Review screen for invoices that have Purchase Orders to include purchase order budget flags and block invoice approval where no Purchase Order is provided.
Security improvements made - updated the password encryption protocols, improved password reset flows and API message authentication.
Improved the performance of the Search Matters page.
August 2020